Justin Ryan Featured on GCN Radio
Recently Justin visited the offices of the Gay Christian Network to record and episode of GCN Radio with Justin Lee as well as celebrate GCN Justin's birthday.  "It was definitely fun spending time with Samantha, Nate and the rest of the GCN crew while visiting there," stated Justin.  "I am so proud of the work they are doing at GCN" 

You can listen to the interview by clicking on the following link
Click here to Listen to the Podcast
(or right click the link to download)

Thanks to Justin Lee, Samantha and Nate for an amazing time at GCN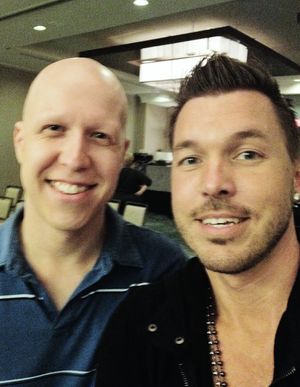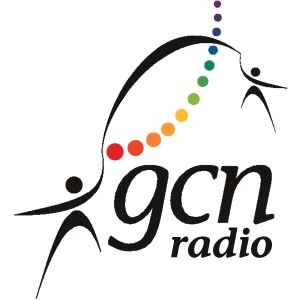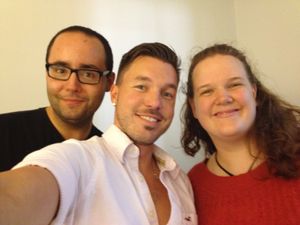 Justin Lee & Justin Ryan / The GCN Radio Logo/  Justin with Nate and Samantha at the GCN Office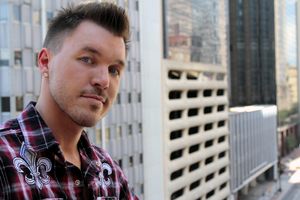 Christian
Recor
ding Artist to Perform at
Rally s
upporting b
ullied Youth


By Amelia Robinson
Nashville Christian  recording artist Justin Ryan will perform Thursday during a candlelight vigil remembering LGBT  youths who were lost to bullying.
"We are trying to honor those who have taken their own lives or lost their lives," said Matt Grimm, president of the recently formed Dayton chapter of GLSEN.
The 8 p.m. vigil will be held at Courthouse Square in Dayton.
Ryan will perform three songs, including "I've Been There".
The date was selected to recognize the anniversary of Tyler Clementi's death.
The 18-year-old Rutgers University student jumped from a bridge to his death Sept. 22, 2010 after his roommate secretly broadcasted Clementi in a compromising situation.
Grimm said area LGBTQ students need to know the community supports them and that bullying is wrong.
Ryan is currently on tour for his fourth album, "I've Been There" on Mosrite Records. The tour is inspired by the GLBT youth suicides provoked by bullying and rejection in recent years.
Ryan will also perform a concert at 7 p.m. Friday at Eternal Joy MCC, 2382 Kennedy Ave, Dayton.
Justin Ryan Releases "I've Been There"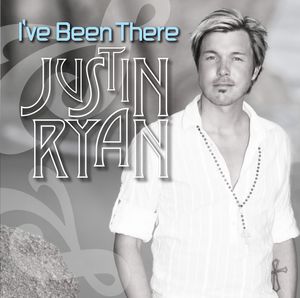 FOR IMMEDIATE RELEASE:

Nashville, TN -  Christian recording artist Justin Ryan will release his newest studio album on September 13th.
The album, whose title track was written by Marsha Stevens-Pino, will be the fourth that Justin has released on Mosrite Records.
The record was inspired by Ryan's current concert tour of the same name that focuses on the overwhelming number of LGBT youth suicides provoked by bullying and rejection in the past several years.
"This album is a collection of songs that are near and dear to my heart," Ryan said. "It is a tribute to LGBT and Marginalized youth all over the world who have felt rejected due to bullying."
"In recent years we have witnessed first hand the effects of bullying in our community and we lost some really special people whose potential was never fully realized," he said. "In September and October 2010 alone we lost 9 young adults, who took their own lives due to being bullied and rejected."
"This project is dedicated to the memory of those who took their lives so that the world
will know what they failed to know, and that is the simple fact that there is a community
of people who care about them and are still honoring their memory," Justin said.
The album features 12 songs, including a duet with legendary LGBT Evangelist and Songwriter Marsha Stevens-Pino, as well as a number of resources for LGBT youth who may be struggling with bullying and rejection.
An excerpt from the song that inspired the album and tour illustrates Justin's message: "I felt the wounds, I kept the scars. I can meet them where they are. I can feel their pain cause I've been there."
The album will be available as a digital download on September 13, 2011 at www.JustinRyanOnline.com and will be sold at all of Justin's future concerts and appearances.
Justin plans to continue visiting MCCs, UCCs and other GLBT affirming churches for the "I've Been There" tour through 2012 to spread his ministry's message of survival, hope and God's love.
For more information on the I've Been There album or adding your church to the tour email Justin@JustinRyanOnline.com or visit www.justinryanonline.com.
# # #
 
Justin Featured on Cover of Ignite Magazine
Justin featured on Reverend Sue's Website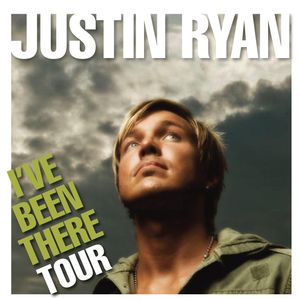 Last night I had the privilege to attend Justin Ryan's I've Been There concert in Tampa, Florida, and I was not disappointed. I was familiar with Justin's music so I knew a little of what to expect. He is a musical talent: a rich voice with a strong stage presence. But combine his music with the masterful storytelling of his life, and you have a one-man musical theatre.

However, keep in mind that Justin's story is not fiction. His story is real. His story is life. And for many of our youth, Justin's story hits frightfully close to home.  He shares his message so that LGBT youth know that they are worthy and loved.

I won't go into details of Justin's story because I wouldn't do it justice. This is Justin's story. Only he can share with you his childhood trials that made him into a strong, loving and understanding man.

The best way to experience Justin's story is to see him concert. The concert schedule is on his website at http://www.justinryanonline.com/. If you don't see a location close to you, contact Justin, as he may be able to arrange a concert in your town. Justin Ryan: A remarkable talent. A remarkable story. A remarkable man. And his concert is a must see!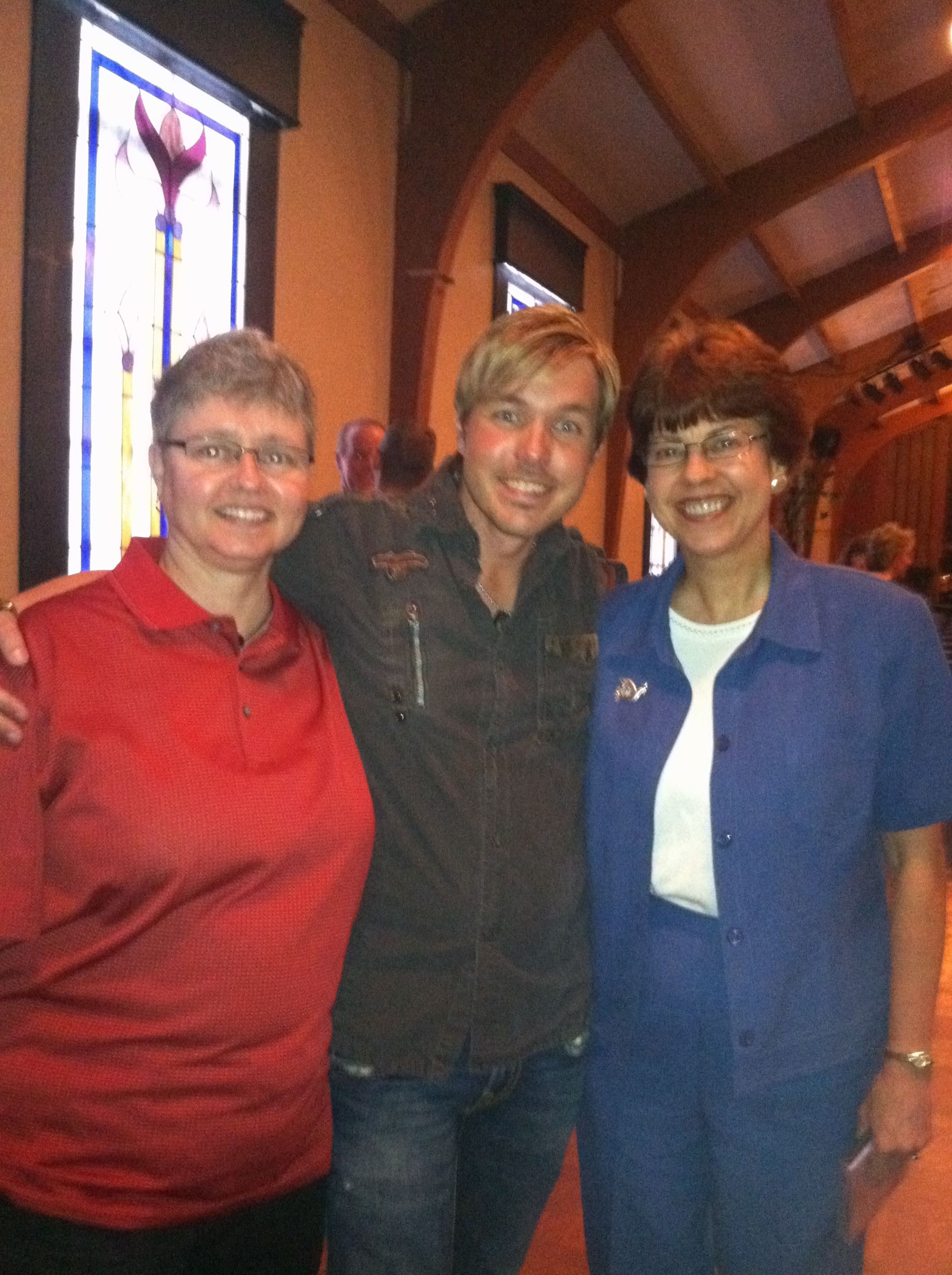 Reverend Sue, Justin, & Patti

Check out Reverend Sue follow her on Twitter and Facebook for today's News... we thank her for all she does for our community!  We Love Rev Sue

Justin Featured in Sarasota Herald-Tribune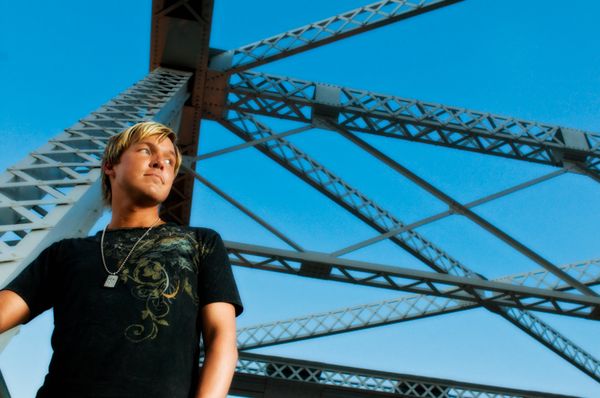 Singer Brings Message to MCC
By STEVE HEISLER Correspondent
Published: Sunday, June 26, 2011 at 1:00 a.m.
Last Modified: Friday, June 24, 2011 at 4:12 p.m.
Singer Justin Ryan's message of courage and acceptance resonates with each tour stop he makes from Nashville.
As the former Sarasota resident prepares to perform at Church of the Trinity MCC, his uplifting perspective for youth seems, to him, particularly relevant. After all, he has been through it all.
"People can tell you it's OK, but a lot of times it's words going in your ear and out the other," Ryan said during a break between Nashville studio sessions. "Music tends to get inside of you. It reaches you in a way that no other can."
Three teenage suicides from bullying last fall and statistics that show 86 percent of glbt youth have been harassed bear out Ryan's words. His ministry of encouragement includes advice to ignore fear.
"What I always tell people from the stage is that for every person who disagrees with you, there are four or five who agree," he said. "You just have to find those people."
The message of inclusion resonates with Steve Warne, 28, of Sarasota. He remembered how much music meant to him at age 14 when he was in chorus ,
Now the founder and president of the nonprofit Step Out and formerly associated with ALSO Out Youth, a drop-in center for glbt youths, Warne stressed the importance of Ryan's advocacy.
"We get an inspiration like anyone else from those around us," Warne said. "When you hear music that exposes people to diversity and inclusion, that music changes society and it's going to make it easier for others to speak up and ."
The Rev. Vickie Miller, the minister of congregational life at Trinity, knew Ryan when he attended the church from 2002 to 2004.
Ryan contacted her about returning for the concert.
Young people come to terms with their who they are at an earlier age than previous generations, she said, and need role models like Ryan to understand they can be spiritual and remain true to who they are inside.
"They realize God does love and accept them for who they are," she said. "The focus is one can have a spiritual life and have faith and be with God and that doesn't have to be in conflict with who they are."
Justin Ryan now available on iTunes!
We are very excited to share that Justin's music is now available on iTunes!

Recently, the Revive Us Again album was made available on iTunes.

This makes Justin's music available to a much larger audience with hopes that it will touch people all over the world.

Simply search for Justin Ryan in iTunes to view or purchase digital copies of the album or individual songs!

More of Justin's music will be available on iTunes soon!  
Justin featured on Collaboration Album
 Nashville, TN - Recording artist Justin Ryan has been selected to be featured on a collaboration album titled "UP: Unashamed Praise."
The album features 14  Christian artists including: Marsha Stevens-Pino, Delores Berry, Jeremiah Cummings, Carolyn Marshall and Pat Grant, Shawn Thomas and others. 
Justin decided to include his song "I'm Not the Enemy" from his 2006 Mosrite Records release, 
Surrender
. 
"A lot of times  people feel like God couldn't possibly love them of has forgotten about them because of who they are and who they love. This song is a reminder that the God that made us created us exactly how we are and shows us that we can be loved like we've never been loved before, despite what the voices of today's society says!" Justin stated. 
The album was released on March 15th, 2011 and is available at one of Justin's concerts or on iTunes. 
For more information contact
info@justinryanonline.com
.